A Powerful Way to Learn and Have Fun
Thinking about adding chess classes to your school's or community group's enrichment program? Just say YES to chess and we'll do the rest!
Particularly in schools and neighborhoods where few good after-school alternatives are available, our classes provide a safe, social setting that is ideal for the full realization of chess' educational and developmental benefits.
Chess instructors may be the first adults the children have known who are consistently encouraging and supportive of their efforts to succeed academically and socially. Because our Classes are open to children and young people, many students and their instructors work together over several years and develop a strong bond, which is an immeasurable benefit of our program.   We emphasize skill-building and positive reinforcement rather than rote memorization.  Our students learn to concentrate, think creatively, and consider all of their options before they "make a move".  Reasoning, problem solving, and analysis of steps and missteps are all part of the process leading to the development of self-confidence and sound judgment.
The classes meet once or twice a week during before or after school hours or as part of the school day.  Through the classes, students are introduced to advanced chess concepts and receive personalized attention.
Our program is specifically designed to cultivate progressive learning for 21st century students and the skills the students acquire are imperative for them to succeed in school and for their future success in the global information society.  We use chess as a powerful learning tool to assist students with grasping math concepts more quickly and improving their aptitude for reading comprehension.  Our programs impart not only academic but also key life skills such as: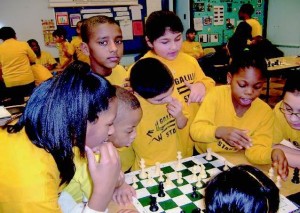 Higher-Order Thinking Skills
Critical Thinking Skills
Problem-Solving Skills
Spatial Awareness
Advanced Math and Reading Skills
Behavioral and Social Skills
Self-Directional Skills
Self-Esteem Skills
Goal Setting
Good Sportsmanship
Our talented and enthusiastic instructors are trained in class management, so they are successful in creating an environment where children are able to focus and learn. Each of our chess instructors pass an in-depth background check, attend child abuse awareness training and make chess fun!
Bring it on…
Thinking about adding chess to your classroom? Our programs will add some enriching experiences that will last a lifetime. Contact us at 773-844-0701 or david.heiser@renaissanceknights.org to get a program or class started right away!
"I am really impressed with how enthusiastically our students have embraced the Chess program. The older group of 50 5-8th graders has signed up for another 8 weeks. Thank you for providing such a wonderful resource for our students." –Priscilla J. Barbier - Assistant Principal

"Renaissance Knights is a very professional and well structured organization. The ease we were able to put our program in place is a testimony to your ability. Our students are enjoying their participation and our hope is, with your help. we will continue to grow and flourish" –William Anderson - Assistant Principal

"Wow, Adrian really enjoyed his first chess lesson. Thank you for doing this!" –Parent of a chess student